Flossie Flies Home
Written by Penelope Colville Paine, Illustrated by Carl Wenzel
Publication date: July 2015
Honeybee Flossie looks forward to growing up and becoming a worker bee, But she is tempted away from her tasks by a handsome dragonfly only to find herself a long way from home. With some help from her sisters Flossie focuses on what is important and learns to stand up for herself. Delightful illustrations reflect nature and the special roles bees have.
ISBN 9780977476350
Purchase Online
Kids At Weddings
Wedding Gifts for Children – Ring Bearer, Flower Girl, Attendants, Wedding Guests
Since 1999 Paper Posie has published best selling books and products for young wedding attendants or guests.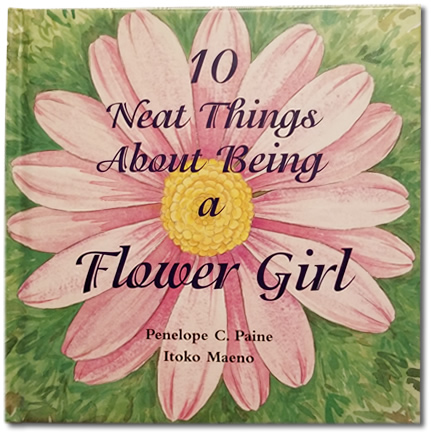 10 Neat Things About Being a Flower Girl
This charming book, beautifully illustrated by Itoko Maeno, helps little Flower Girls understand their roles in the wedding. A wonderful gift to give before the wedding event, one that every Flower Girl will treasure.
6 1/4″x 6 1/4″ Hardcover
24 full color pages
ISBN 9780970794413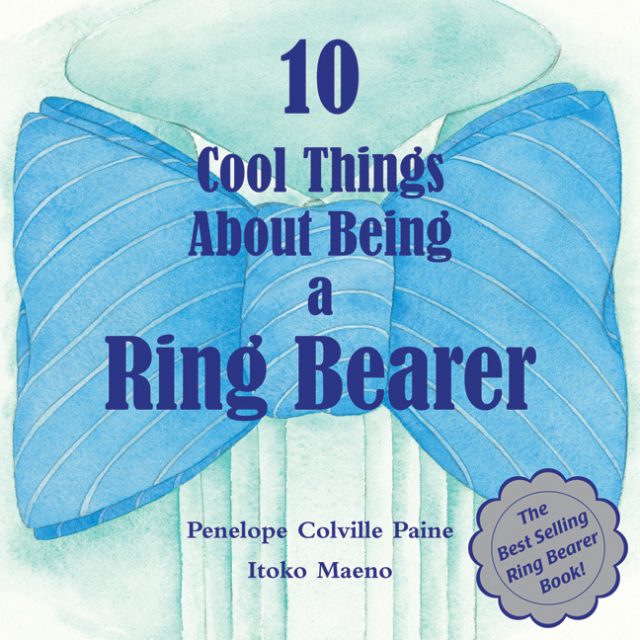 10 Cool Things About Being a Ring Bearer
A great way to help little Ring Bearers understand what their roles will be in the wedding. Fun illustrations and a place to personalize the book make it a wonderful gift for Ring Bearers to receive before the wedding takes place.

6 1/4″x 6 1/4″ Hardcover
24 full color pages
ISBN 9780970794420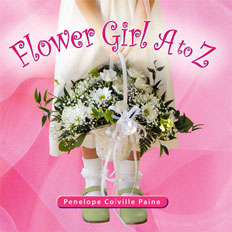 Flower Girl A to Z
Every Flower Girl is the star (just look in the mirror on page 29!) in this trendy new guide for today's Flower Girls. Written in rhyme with pictures that reflect the diversity of our world, this book is perfect for Flower Girls in any wedding.

6 1/4″x 6 1/4″ Hardcover
32 full color pages
ISBN 9780977476336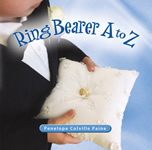 Ring Bearer A to Z
Colorful and trendy, Ring Bearer A to Z will make sure every young attendant will have fun learning about the special part he will play in the wedding. Written in rhyme, each letter of the alphabet ties in to a tradition or sentiment involving the upcoming wedding. There are full color photographs throughout plus a mirror on page 29.
6 1/4″x 6 1/4″ Hardcover
32 full color pages
ISBN 9780977476343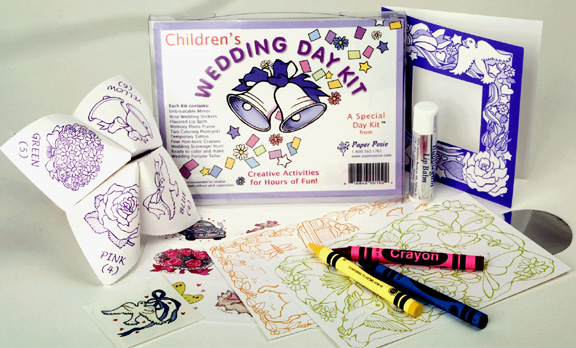 Wedding Day Kit for Children
Wedding Day Kits for Children are crystal clear plastic self-closing envelopes with handles filled with fun things to do. Wedding Day Kits are perfect for keeping children occupied during long wait times at weddings. Each kit contains: Unbreakable Mirror, Flavored Lip Balm, Two Postcards, Three Crayons, Nine Wedding Stickers, Photo Frame, Wedding Tattoo, Wedding Scavenger Hunt, and Ready to color and make Wedding Fortune Teller.

6 1/4″x 4 1/2″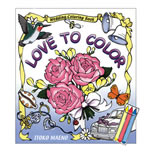 Love to Color
Love to Color Wedding Coloring book is designed with space for young children to include themselves in the pictures. Created to celebrate today's diverse weddings, each 20-page coloring book includes a set of three crayons.

8″ x 9″
20 Pages
ISBN 9780970794406